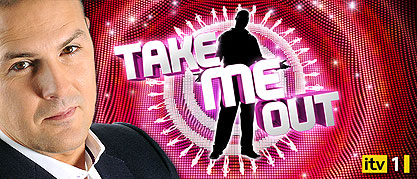 I would quite like the half an hour of my life back please. I have just spent it watching
Take Me Out, the new ITV1 dating show filling the X Factor slot on a Saturday night. Even though I only wandered in half way through I could immediately tell it wasn't for me. In case you haven't had the unfortunate opportunity of watching this show, let me fill you in…
A bunch of what can only be described as 'desperate slappers' are lined up whilst an 'eligible bachelor', or 'tosser' as I prefer to call them, is paraded in front of them. Much like Crufts, but with more panting. The girls then show if they would like to date said guy by 'leaving their light on'. At the end the guy chooses from whoever is left and they go on a date to a mysterious place called Fernando's, which for some inexplicable reason everyone gets very excited about.
Paddy McGuiness, of Pheonix Nights fame, is a suitable irritating choice of host for this show. His catchphrase 'No lighty, no likey' is possibly the worst in history. It makes the dreadful 'Bring on the wall!' seem like music to your ears.
Yet one of the most infuriating things about this show is the fact that the female contestants, with their make-up laid on thicker than Kerry Katona at a Mensa meeting, can switch their lights off before they have even heard the single guy speak. So much for 'don't judge a book by its cover'! Nevertheless, I do have to admit that it is hilariously funny to watch the steady wave of lights going out as the guy swaggers on in his pink shirt or tight fitting vest.
Watching this show, I can't help but mourn the days of Blind Date. Saturday nights were not complete until that classic theme tune filled the living room. I know that it could be a bit risqué at times, but it was nowhere near as shamelessly filthy as the cheesy innuendos of Take Me Out. And the contestants actually went on proper dates chosen from three 'mystery envelopes'. Sure they almost always ended up going ice skating or to a theme park but at least the mystery was there.